Finding the Best Football Betting Sites
Football betting is one of the most popular betting activities in the UK. Whether at a high street bookmaker or on one of the top football betting sites, placing a wager on national or international teams is a favourite pastime among a wide cross section of punters.
All of the major online bookmakers offer football as a betting option and there are usually competitive odds and a wealth of different wagers that can be placed. This article is a basic guide how to bet on football and offers some information about the different types of wagers on offer together with soccer betting tips and information about finding a suitable bookmaker.
Top Football Betting Bookies
;
How to Start With Placing a Bet on Football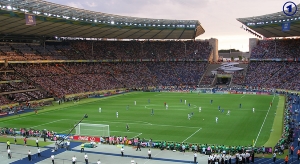 Even if you are new to betting football is a good place to start. As the nation's favourite pastime, many people who have never placed a bet in their lives already have an interest in the sport and consider themselves to be knowledgeable about the players themselves and their teams.
This is a great place to start if you are looking for football betting tips as the more research you do and the more informed you are about a team or a player's performance, the more successful you are likely to be. Although major tournaments such as the World Cup are the most popular focus for casual punters, betting on the outcome of Premier League and Champions League matches is also popular.
Most Popular Ways to Bet on Football
1X2 Betting – This is the simplest and most popular football betting options. The idea is to predict the correct outcome of the game at full time.
Double Chance – Similar to 1×2 betting, this gives a choice of three selections with lower odds as the outcome probability is larger.
Draw No Bet – This wager eliminates draw as an option so if there is no clear winner at the end of the game, your wager is returned.
Correct Score – One of the most obvious ways to bet on football, this allows you to place a wager on the prediction of the game's result.
Both Teams to score – This is another popular football betting option with a simple choice of either yes or no.
Goalscorer – In this type of betting, you will place a wager on which player will score a particular goal, whether that be the first of the match, the last in the game, or indeed at any point during play.
Goal Bands – Here you can select a particular band which clusters the total of goals scored during the match, for example 0-1, 2-3 etc.
Scorecast – This type of wager allows you to predict both the first player to score a goal together with the correct game outcome.
Wincast – This bet allows you to choose the player that you think will score first together with predicting that his team will be the overall winner.
Under/Over Bets – This type of bet may be placed on a couple of aspects of the game. The punter will place a wager on whether there will be more or less goals, cards or corners than a chosen figure for either team.
Odds/Evens – Here you can bet on whether there will be an odd or even number of goals, corners or cards.
Half Time/Full Time – In this form of wager you bet on the outcome of the match at both half time and at the eventual end of the game.
There are also a large number of in-play bets which can be placed while the game is in action. These may include wagering on which player will score next, who will get the next yellow card, whether a player will score in the next 10 minutes etc. There are also opportunities for longer term bets covering the outcome of an entire championship, or a particular player's performance over the course of the season. As you can see, when it comes to options for betting football has countless choices to select from.
Soccer Betting Tips
If you are wondering how to bet on football, this section will give you some football betting tips. Firstly, you should try to focus on at least one football league, routinely accessing and perusing statistics and the form of teams. It also makes sense to keep a log of all your bets to observe patterns and to inform your future wagers.
You are able to reasonably estimate the forecast of a match by checking previous match results from not just the current season but also from the previous season as well as looking at whether the team are playing at home or away, as generally the home team are more likely to win statistically. Paying attention to any injured or absent players will also give you a good idea of success, especially if the missing player plays in defence or the team captain themselves.
Looking closely at any other events that may affect the performance of the team, for example if a manager has been replaced, a key player has been dismissed, or displeasure of the fan base, as these types of events can have a major impact on the team's morale causing them to lose a match.
Choosing a Bookmaker
Choosing a bookmaker for football betting can seem tricky, especially as all the major operators offer a wealth of different football bets for punters to choose from. The key is to look at the odds being offered to ensure that you are getting the best deal. If you are interested in trying your hand at in-play betting, you should ensure that this is an option for your choosen bookmaker, especially if you are planning on using a mobile app, and that your preferred method of payment for deposits and withdrawals is available to you.
It goes without saying that you should always make sure that your chosen bookmaker is trustworthy and reliable with a good reputation in the industry.