Live Betting Is The Only Way To Go – Watch The Game – Bet On the Game As It Is Played
Live sports betting available to everybody is all thanks to the internet. Back in the day only a very few fortunate punters were able to place a bet once a game had started. Even if you had one of the few that would take your bet over the phone the markets available were not many.
Add to that the fact you couldn't get though half the time because lines were busy and all in all it was not much of a feature. We have had that moment when we just know that a goal is coming. Or that there will be somebody getting a yellow card.
Or maybe that after watching the first set, you have a feeling that the second set will have a completely different outcome? Well now it has never been easier to follow those hunches and place a bet. Not that long ago it was exclusive to the biggest bookies that has all changed. Just about every online bookie worth their salt has an in-play live betting section.
It will of course depend on a lot of things as to whether it is any good of course.
Top Live Betting Bookies
;
Live Betting Sites Are Only As Good As Their Software
A lot of the big names have their own proprietary software running the live betting side of things. These will be in all likelihood be tweaked and customized versions of off the shelf systems. So few bookies have the resources to develop fully unique platforms but there are one or two. You have of course the big name developers like Playtech, OddsMatrix, SwissBet, and Sirplay, ASI, Digital Gaming Solutions and to be fair a whole host of companies that make some very good platforms.
The fact of the matter is that they will all be as good as the server that is running them. Updating the odds and accepting the bet at the right odds is all down to the individual bookies. But the experience will be down to the software. So what does it take to be a good live betting site? To be even considered any good there must be a cash out service. Cash out is a bit of insurance for the punter and bookie alike. A bookie that has this feature will offer the punter a buyout of the bet to end it early.
If the outcome is looking less likely that the win is coming the bookie will offer a sum less than the original stake to end the bet. If the win is looking very likely the bookie will offer a sum a bit less than the total win would be to end the bet early.
Live Streaming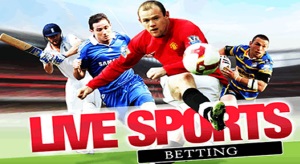 This is the big thing that allows some bookies to stand out from the crowd. Yes the most popular games are on TV. You can watch major motor sport races on TV also but not always. There are far more games that can be wagered on than are shown on standard TV. This is where live streaming comes in.
Not all is equal here either. Some bookies will require you to have an active bet on the event you wish to watch. Others, and this is far better, only need you to have cash in your account or have placed a bet within 24hours. There are dedicated racing channels with some bookies but as far as the live betting is concerned you want to watch the action that you are betting on whether it is hockey, in football, basketball or volleyball.
There are some bookies that have a dozen or so sports that are live streamed and can be bet in-play as well. If you are watching the match there is nothing quite like a bit of live football betting to spice it up.
Live Scores And Animations
The next best thing to live streaming is the live score feature. And to be fair it is essential for the punter to be able to follow the game when it comes to live betting at the very least you need to know the current score. This is another area where bookies can be rated the better ones have a comprehensive score board affair the graphic will constantly update with relevant information. This will be scores, last scorer maybe last booking in a football match. The more info the better for the punter. Then we have some sites going with a virtual representation of the match.
Mainly for live football betting this will be a graphic of a football pitch with representations of where the ball is and the team in possession along with a commentary below. The animations can seem a bit gimmicky but it can be useful.
The Speed Bet Or Quick Bet
This is a relatively new feature with the top end bookies. It is basically a short cut feature in the live betting system to allow bets to be made very quickly. Sometimes the normal bet-slip can take a bit too long to be able to take advantage of the changing odds and events in the match/race. There is nothing more frustrating than predicting the next goal only to be timed out by the system taking too long to register the bet.
Available Sports And Markets
The last criterion for live betting has to be how many sports can you actually live bet on? There will be a good selection at the best. Not only that but what kind of bets can you make? Let's take football as an example. We are talking association football America, sorry, soccer.
Anyway as far as Europe and Asia are concerned footie has the biggest slice of the sports betting pie so… If you are watching a rather tight game and a top defense player gets injured, it stands to reason you might want to put a bet on the other team scoring soon. All bookies offering live betting will have that market. But what about if the game turned out to be hard and aggressive? You want to bet on who gets the next yellow card. Not all will have that option. The best will have almost all of the markets available for live betting as they had for pre-match betting.
Obviously in the second half you won't get a price for the first half score! You will get odds right up to the last minute though. They won't be very good but the best will give odds for most markets all the way to the wire. If a bookie has all of the above they have to be a serious contender for your money. But then we step up another gear if all of this is available from the mobile version of the site then we are talking top ten in your short list.
There are a few bookies that are this good. One of the best if not the best sports book is Bet365. Ever since they started, the privately owned internet bookie has smashed the competition. They are into the scary profit realm of over £500 million per year. That's a privately owned company. Denise Coates the CEO is one of the richest women in the world. She is certainly in Forbes' 100 top tech companies. And nearly 75% of the company's sports betting income comes from live betting. There is definitely coin in the format!
Not Everyone Can Access The Live Betting Sites
If you live in Australia you will know that it is illegal to bet in-play on a sporting event via the internet. A little bit strange as it is ok o do it over the phone! The reasons quoted are 'keeping sport honest'. This just casts a very bad light on sport in Oz. How can it make a difference to the integrity of sport when most bookies have loop holes that they are exploiting? You can use internet based phone lines that don't actually pick up, they just rely data. No, this is politics it has nothing to do with integrity.
Then we have the good old US of A. Where at long last sports betting is finally breaking through all of the BS and states are starting to regulate the industry. There are a few championing the caused and let's hope that it won't be long before live in-play betting on the Lakers' game will not only be easy but safe and legal. But for now all you Aussies and Yanks will have to continue going offshore and taking advantage of dubious legal loopholes to satisfy your craving for live betting action. While unfortunately for you the rest of us can pick and choose the best available bookies to place our live bets.
So bring it on the set will be 7-5 to Federer and Spurs will win a free kick in the next 5 minutes and score! Good luck people.