All You Need to Know About eSports Betting
Traditional sports betting has been around for a very long time, and most people who have an interest in gambling will already know a thing or two about placing a bet on a baseball or football game. However the betting world is an ever changing place, and today there are more choices than ever when it comes to making a wager.
Esport bets have become increasingly popular, and from amateur beginnings in the early days of the 21st century, eSports betting has risen to become an international pastime, generating over $700 million of revenue every year. Although it is debateble whether or not eSports actually qualifies as a "sport", it nevertheless attracts hundreds of thousands of viewers and some serious prize money.
All of this means that it has attracted the attention of the bookmakers and today, increasing numbers of online sites are allowing e gaming bets as part of their offerings.
Best eSports Betting Bookies
;
What Exactly are eSports?

While video gaming was once the preserve of nerdy teenagers, professional video gaming is now not just a hobby but a way of earning a living and those who excel in the field can command huge salaries as well as enormously lucrative sponsorship deals. These talented players compete against each other in tournaments which are commonly referred to as "eSports".
This has opened up more opportunities for betting as those with a knowledge of the games develop an interest in placing a wager on their favourite players, even if they have never placed a bet in their life. There are lots of different games that you can bet on and as there are now multiple bookmakers who are offering the chance ot make eSport bets, you are sure to find one that will allow you to make a wager on your favourite game.
Which Video Games Can e Gaming Bets be Placed On?
There are a multitude of options when it comes to placing eSport bets and the number and variety of games on which you can wager a bet is increasing all the time as the popularity of games changes with time. Some of the most popular options include:
Call of Duty (sometimes called CoD)
Counter Strike: Global Offensive
Heartstone
Dota 2
League of Legends
Heroes of the Storm
Overwatch
Magic the Gathering
Starcraft II
Smite
World of Tanks
Traditional Sportsbook Betting and Fantasy Betting on Esports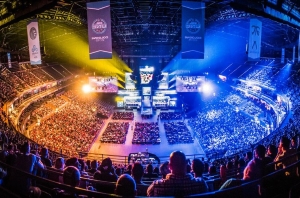 There are currently two types of cash betting on eSports that you can try online. The first is traditional sportsbook type betting, where you use a traditional online bookmaker to bet on the outcome of actual tournaments. In just the same way as you might place a wager on a traditional football or baseball match via an online bookie, you can do exactly the same with eSports as a number of tradititional bookmakers now offer a range of e gaming betting choices.
The primary benefit of choosing to place a bet on eSports in this way as you have the reassurance of knowing that you are using the services of a reliable and trustworthy operator and that your financial transaction is in safe hands. The downside however is that this is still a developing market and so the variety of wagers and stakes may not be as expansive as you might hope.
The second type of eSports bet is fantasy based wagering. Unlike in traditional betting where participants place a wager on the outcome of a specific match or tournament, in fantasy eSports betting, players will create their own dream lineup just as they would in a fantasy football scenario. This lineup may stay in place over the course of several months or, in the case of daily fantasy eSport betting, just a few days.
In fantasy betting, you are also playing against other players rather than against the house, which is a very significant difference. While this is a popular way of placing eSport bets, especially in the USA, it doesn't have quite the same level of excitement as wagering on an actual match. There is also a third type of betting on eSports although this type does not involve cash exchanging hands. Some players will wager in-game items, for example weapons and abilities, which may then be transferrable for cash via a third party. While this is a relatively simple way of placing a bet, it is entirely unregulated and can therefore be risky when it comes to your wager being honoured.
What Types of Bet Can be Placed on eSports?
The most popular type of betting on eSports is match betting i.e. a wager placed on the outcome of a specific tournament or match. However there are other types of betting on offer, including in-play betting (also known as live betting) which is a wager placed on the outcome of a particular event within the match. Future bets are also a possibility, in which participants bet on a longer term outcome such as who will win an entire tournament rather than a specific match.
For a more complex, and therefore more interesting bet type, you could consider a handicap or spread bet, in which bettors may be offered a handicap by the bookmaker. Perhaps the most lucrative type of eSports bet of all is the parlay bet, in which a participant places a minimum of two bets on different events. If all of the bets are successful, the player will receive a payout that is a combination of the odds of all the events allowing the total winnings to be exponentially increased.
Which Odds Are Available?
The odds available may vary according to the site chosen – you may encounter decimal, fractional or Moneyline odds.
Fractional odds are the most popular system in the UK and Ireland and are expressed in the format 3/1, 4/1 etc. A player can calculate their bet by looking at the second figure and their potential winnings by looking at the first number. Say, for example the odds are 4/1, if you place £1 as a wager you would make a profit of £4 should you win plus your stake returned to you. Therefore your total return would be £5. In a more complex situation, if the odds were 5/2 and you placed a bet of £2, you could expect a profit of £5. This, when added to your original stake would take your return to £7.
Decimal odds are popular throughout Europe as well as in Asia and Australia and requires only simple mathematics skills to work out your potential profits. If, for example, the odds on your favourite team was 3.30 and you placed a bet of £10, you would simply multiply your stake by the odds i.e. 3.30 x 10, making your expected profit £33.
The third type of odds that you may encounter is Moneyline odds, which is based on a bet of £100. If the figure has a positive symbol, this tells you the profit you will receive if you win, for example +200 means that you will receive a profit of £200 on a bet of £100. If, however, the figure has a negative symbol, this tells you the amount you will have to wager to win £100 i.e. odds of -200 will only net you a profit of £50, although you will also get your original stake returned.
How to Choose a Bookmaker for e Gaming Bets
If you have decided to choose a bookmaker in order to make eSport bets, you should first check for reliability. Is the site regulated, and where is their jurisdiction licence from? You should be sure to check this information as well as reviews on review sites and social media. You should shop around to find the best possible odds and also the site which offers your favourite games as a betting option. You may want to bear in mind possible bonuses and loyalty programmes that are being offered by different bookmakers in order to maximise your profits as well as the different types of bets that you are allowed to place with each one to ensure that they meet your needs and preferences.
Some Tips for eSports Betting
If you want to have the best chance of making a good profit from your eSport bets, you need to thoroughly familiarise yourself with the games, teams and players. The better informed you are, the more successful you are likely to be. Check out the maps and formats of matches as this information is also vital to your success. Research the most popular up to the minute strategies and cutting edge tactics to stay ahead of the game and use your past mistakes to inform your future bets – there are free online betting trackers which help you to see easily where your strengths and weaknesses lie.
Most importantly of all, you should care to manage your bankroll effectively so that you don't fall into debt – you should always size your wagers so that you can afford to make some losses.