Does the BetVictor Mobile App Represent a Good Choice?
For many years now, online sports betting has been an extremely popular pastime for a large cross section of people, however over the last few years, mobile betting has started to rise in popularity too. With today's busy lives, punters don't always have the time to wait until they are sitting behind their PC to place a wager, and want to place a bet while on the move, whether travelling or out and about away from home.
Although there are now quite a few online bookmakers who are offering a mobile experience for customers, it is important to choose a sportsbook who offer the highest possible quality experience for those using mobile devices, whether a dedicated downloadable app or a streamlined and mobile optimised website. The BetVictor mobile app has been created by this well known online sportsbook to help users enjoy their favourite pastime while on the go.
In this article you can learn everything that you need to know about the BetVictor mobile experience to enable you to make an informed choice about whether the BetVictor betting app is the right choice for you.
.
£25 Welcome Bonus
Awesome promotions
Live Results
Not Verified

A Bit of History About BetVictor Bookmakers
BetVictor began life in 1946 by William Chandler, who had once owned Walthamstow Stadium. Originally known as Victor Chandler International Ltd, the company remained a family business for many years although it changed his name a few times, once to VC Bet and then to BetVictor. In 1998, the company relocated to Gibraltar where it is based to this day and is regulated by the Gibraltar Gaming and Betting Association which proves its reliability and trustworthiness.
Today, the company is in different hands, but has risen to become a true international player, with punters in more than 160 countries worldwide and with an annual turnover of around £1 billion. The company specialise in online sports betting and have a very good reputation in the industry.
Which Types of Sports can be Found on the BetVictor Betting App?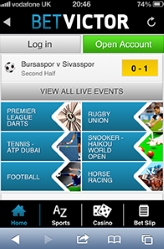 As you might expect from a sportsbook that specialises in online betting, the BetVictor mobile app allows punters a huge choice of sports on which to place a wager. Although this company are not as big as some of their competitors, they still offer an impressive selection including, of course, all of the most popular options such as football, horse racing, snooker, rugby and tennis as well as more unusual choices to appeal to niche markets such as volleyball and Alpine skiing.
All of the sports available on their traditional PC website can be accessed through the app making it one of the better choices for betting on the move. There is also the option of participating in in-play betting through the app.
Which Devices can the BetVictor Mobile Platform be Used With?
If you choose to download the BetVictor Betting app, you can find one that is compatible with an Android or an iOS device and you can use it on either a smartphone or a tablet. If you would prefer to use the BetVictor mobile optimised website instead, you will find that the experience is just as good and runs seamlessly and smoothly. The BetVictor mobile platform can be accessed by a wide range of devices including BlackBerry and Windows devices and although it may appear different depending on the gadget being used, the ease of navigation and functions remain the same, with the variations being purely cosmetic.
What are the Advantages of the BetVictor Mobile Platform?
Users of the BetVictor mobile platform will be delighted with its ease of navigation and user friendly interface. Fast-running and smooth to operate, it works well on all devices and boasts all of the features of the main PC website itself. As well as having a huge range of sports on which to wager, BetVictor also allows for in-play betting which is a bonus for a mobile site.
There is also a good range of both major and minor sporting events to choose from, giving a great breadth and variety to punters. This sportsbook's odds are also reputed to be among the best in the industry, making them a good choice even though they are a smaller operator than some of their bigger name competitors, in fact their horse racing odds are guaranteed to be the best possible across the board. As part of the mobile platform, users can check instantly on results and see games statistics for both those which are currently in play and those which have closed to allow for strategies to be formed and developed.
There are also often promotions and bonuses offered to both those who choose to play through the app and those who use the ordinary website. For simply signing up to the BetVictor mobile app, punters can take advantage of a free £25 bet to get them started.