Is the Bet365 Betting App the Right Choice for Me?
If you enjoy betting on the move, you will need a mobile betting app that is convenient to download and use while giving you access to all your favourite sports. Not all apps are created equal, however the Bet365 mobile app is a great choice for both experienced bettors and those who are new to placing an online sports wager.
Bet365 is one of the top choices when it comes to mobile betting sites, which is hardly surprising as they were the first online bookmaker to ensure that their entire sporting range was adapted to the needs of mobile device using customers. With a huge choice of sports available on which to place wagers, it is easy to see why Bet365 mobile betting is the app of choice for countless bettors every day.
Find out more about Bet365 mobile in this article which will help you to decide whether or not this is the right online mobile bookmaker for you.
.
€50 Deposit Bonus
Various promotions
Mobile Betting
Not verified
Background Information About Bet365
Bet365 has been in business for more than 15 years, having been founded in the UK in the year 2000. Today, they have more than 7 million customers who are locate in over 200 countries worldwide.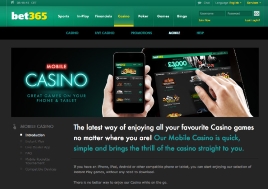 One of the pioneers of early internet gambling, Bet365 have made it their mission to provide a choice of gambling platforms including Bet365 mobile betting services.
They led the way in ensuring that the entire contents of their sports betting website is available to customers using mobile devices to place wagers on the go, and this still makes the Bet365 mobile site stand out from the competition as many other online bookmakers only offer a limited choice of sports through their mobile apps.
Not only does the Bet365 betting app allow customers to place bets on an enormous selection of sports, but it even offers bettors the chance to bet in play with hundreds of live streams of sporting events available to be watched on a smartphone or tablet every day.
Which Types of Sports can Users Bet On?
Bet365 offers an unprecedented amount of choice of sports to bet on. In fact, there are around 38 different options for bettors to select from popular options such as soccer, tennis and American football to less common varieties like greyhound racing, snooker and speedway. Every year, Bet365 broadcast over 20,000 different sporting events live with around 3,000 football matches alone being broadcast every month. Bet365 also show every single horse race held across Britain and Ireland as well as over 400 of the most important South African horse races.
Is it Easy to get a Bet365 Bonus Code?
One of the best features of Bet365 mobile betting is the opportunity to take advantage of many long-term promotions and bonuses. While many online bookmakers offer new players great deals, it is possible to profit from a Bet365 bonus code or one promotion or another at frequent intervals throughout the year. First time users of the Bet365 mobile app can enjoy generous bonus offers, however there are also often different promotions centred around major sporting events ensuring that users of this app can benefit in the long term from their registration.
Which Mobile Devices can Access Bet365 Mobile Betting?
The Bet365 mobile app can be accessed from all types of mobile devices. Whether users have a tablet or a smartphone with an Android, Windows or Apple iOS operating system, it is possible to easily download the app and get started with placing a wager immediately. Even for those who prefer not to download an app, it is still possible to access the Bet365 mobile site simply by using the browser. The site runs smoothly on all gadgets making it the ideal choice for all types of bettors on the move.
How Easy is it to Place a Bet on the Bet365 Mobile Platform?
It couldn't be simpler to use the Bet365 mobile platform to place a wager, whether you prefer to use the website itself through your mobile browser or whether you choose to download the app. Users simply select their chosen sport, navigate to the market of choice and then click once on the odds of the appropriate bet. Users then enter the stake that they wish to wager and click on "Place Bet". The funds will instantly be deducted from the user's account balance and the wager will be set.
Are There Any Disadvantages to Bet365 Mobile?
While Bet365 provides an excellent user experience to those who prefer to use their mobile devices to place wagers rather than their PC, there are a couple of disadvantages to their service.
In many sports markets, Bet365 offers competitive odds, however in others there odds on are not quite as good making them poorer value in some cases than other bookmakers. Also, as they require users to input bonus codes, even for new user promotions, rather than applying them automatically, it can be easy to miss out on offers by accident.