Find Out More About Entropay Betting Sites
If you are trying to make a decision about which online bookmaker is right for one, one of the major aspects that requires consideration is the methods of deposit and withdrawal that each operator is prepared to offer.
Of course it is of most importance to choose a method that is safe and secure, but you also need to sure that you have chosen a method that suits your needs and requirements and that you will find the most convenient.
While some people automatically go for the obvious option of credit or debit cards as they are the most widely offered deposit methods, other people choose to go with one of the less common choices such as Entropay, because they believe that there are other advantages to opting for these more contemporary methods.
Top Entropay Betting Sites
;
What is Entropay?
Entropay could probably best be described as a credit card with a difference. Similar to prepaid Visas or Mastercards, there is one key thing that sets Entropay apart in the market and that is the fact that it is entirely virtual. That means that you will receive a credit card number which you can use to make transactions on participating websites, but you will never actually receive a physical card in the post. A simple yet safe way to pay for services, Entropay is an easy way to instantly transfer funds between accounts while maintaining the secrecy of your financial details.
What are the Advantages of Using Entropay?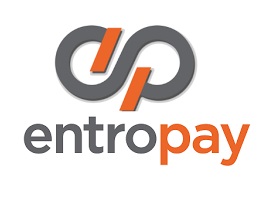 Entropay shares many of its advantages with other similar products such as prepaid Visas and Mastercards and UKash, there are however even more benefits in opting for this method of making deposits. For a start, there is no need to search for a retail outlet near you that sells cards or vouchers as users simply sign up online directly for the Entropay service. This saves you time and effort and is much more convenient.
Entropay also keeps your financial and personal details safe as using this deposit method means that users never have to enter any banking information into the bookmaker's website. This means that users will not be at potential risk of credit card fraud and their identity cannot be stolen.
As Entropay is a virtual prepaid card, you can only spend funds that you already have. This means that you cannot accidentally overspend and get into debt, making it ideal for those who want to control their spending on wagers. Any adult can access Entropay too, making it a good choice for those who do not want or who are not eligible to get a credit card.
Recommended Entropay Bookies
Bookmakers
Bonus
Rating
Read More

.

£100

Welcome Bonus

9.9/10
Read Review

.

€5

Free bet

9.4/10
Read Review

.

up to €200

Matched Deposit Bonus

9.3/10
Read Review

.

£30

Free bet Bonus

9.1/10
Read Review
How Does Entropay Work?
It is very simple to sign up for Entropay. Users simply visit the website and sign up for an account, linking their existing debit card to their virtual card to enable them to top up whenever required. A virtual card is then sent to applicants with a 16 digit number, just like a regular credit card, an expiry date and security code as well as a name that allows you to remain anonymous. This is the information that you will enter into the betting website to enable you to deposit funds into your account. Funds deposited using this method will enter your account instantly allowing you to place your first wager straight away.
Are Entropay Betting Sites Secure?
Entropay is an extremely safe and reliable way to deposit funds into your online bookmaker's account. As you do not reveal any actual banking or personal information to the betting website, such the site itself have its security compromised, you would not be at risk of identity theft and your bank account would not be affected. Should the worst happen and your virtual card details be hacked, you would only lose the small amount of money you had deposited onto it and your other accounts would remain untouched.
Can Entropay be Used for Withdrawals Too?
Some betting sites do allow users to opt for Entropay to be their chosen method of withdrawal as well as deposit however there will be a fee to pay for processing this transaction. If you then wish to transfer funds from your Entropay virtual card back to your own bank account you will then have to pay yet another transaction fee. This means that you may want to think about choosing a different withdrawal method such as bank transfers which are generally free to process.
Is There a Downside to Choosing Entropay?
Although Entropay is a convenient and secure way of funding your betting account, the main downside is the fees that are charged for taking advantage of this service. Often betting sites charge a transaction fee to upload funds to accounts using this method and should you choose to use Entropay as a withdrawal method too, you will be hit with another transaction fee which may vary depending on the betting site.