All You Need to Know About Choosing Credit Card Betting Sites
Although it can be difficult to choose the right online bookmaker from the many different options open to you, one of the factors that you will probably want to consider is the security and variety of deposit and withdrawal methods available.
Not all betting sites offer the same options when it comes to placing funds into your account or withdrawing any winnings, and you will want to select a site that offers not only the most secure option, but also the one that best suits your needs.
The majority of betting sites will offer a choice of several deposit methods, meeting the requirements of gamblers who prefer both traditional and more contemporary payment types, however one of the most popular payment methods which you will find listed on virtually every online bookmaker is the option to deposit funds using a credit card, and this is the method commonly chosen by a large number of users.
Top Credit Card Betting Bookies
;
Why Choose to Use a Credit Card When Betting Online?
There are several advantages to choosing credit card betting sites, not the least being that you will be opening up your options of which bookmaker to choose considerably. While some online betting sites do not offer more modern e-Wallet options, virtually every one will offer the credit cards as a deposit option, meaning that you are free to select from either a major or a smaller provider. Convenience is also a major factor.
With no need to spend time arranging a bank transfer or setting up an e-Wallet method such as PayPal or Skrill, you simply need to keep your card to hand and enter your details for speedy depositing. In the vast majority of cases, bettors also find that using their credit card to deposit money into their account will incur no extra charges or transaction fees, making it a cost effective choice too.
Which Types of Credit Card Can be Used?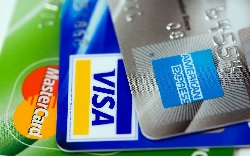 While there are several types of credit card available, only certain ones will be accepted by each online bookmaker. If you have a Visa Credit or Mastercard, you are more likely to find that your chosen card will be accepted for deposits as these are market leaders and can be used pretty much anywhere.
Although cards such as Diners Club and American Express may be accepted, there is no guarantee that you will have as many choices of bookmaker open to you if those are your preferred credit cards.
Are Credit Card Betting Sites Secure?
While some people may have concerns about the security of using a credit card to place wagers online, in fact there is no cause for worry. In fact, credit cards are one of the safest ways to bet online as there are added layers of security built into credit card payments with added identification procedures to ensure that users' financial and personal details are protected. The best online bookmakers' sites are also incredibly secure with firewalls and cutting edge encryption to ensure that there are no information leaks.
Are There Any Drawbacks to Using Credit Cards to Bet Online?
Although credit cards are one of the top options which it comes to placing wagers online, there are one or two drawbacks. One of the greatest problems is that you are wagering money that you do not actually have and one of the concerns of using credit rather than cash from your bank account is that you may be tempted to bet more than you can actually afford. If you are tempted to place large wagers on a credit card, you may find that you start to slide into debt, so it is important when using this payment method to strictly regulate your betting budget to ensure that you do not accidentally overspend causing yourself long term financial problems.
There is also the slight possibility of experiencing credit card fraud when you use this deposit method on gambling websites.
Although there is no greater risk of fraud than when using any other website if you choose a well known and reputable bookmaker, you may put yourself at risk if you choose a less well known provider. You may also find that with one or two sites you may be charged a deposit transaction fee and this is something you should check for carefully before using your card.
Can Credit Cards be Used for Withdrawals?
Although it is sometimes possible to use your credit card to withdraw winnings from your account, you may encounter some difficulties with this. Some credit cards will not permit you to withdraw any funds back to your card at all while in other cases you cannot withdraw to your card more money than you deposited in the first place. Withdrawals to credit cards can also take longer to process, often up to 72 hours. It is usually best to find an alternative method for withdrawing your winnings such as an e-Wallet option.