Ice Hockey – Not Just Winter Warfare
If you have never watched Ice hockey you should it's a lot of action. It seems a brutal game that is only just this side of chaos. It is however a beautiful game with a lot of skill involved. Most know that the Canadians and The Americans love to play the game.
Everybody knows the NHL the top professional league. Then there are minor professional leagues the American Hockey League, ECHL, Southern Professional Hockey League, Federal Hockey League. The Canadians have a junior league as well the CHL that over sees three other leagues.
Then Canada and USA have a host of other non-professional, junior, high school and college leagues. But Europe has a very popular Ice Hockey following as well. In fact it would surprise most people to know how many countries have their own ice hockey leagues. Mainland Europe has 38 countries with at least one league and most have several. It doesn't stop there either Australia and New Zealand have ice hockey leagues.
But possibly the biggest surprise is Asia and Africa with 23 countries having leagues with more than one of them in the desert! So ice hockey is definitely a global sport and the opportunity for hockey betting is huge.
Top Hockey Betting Bookies
;
Hockey Betting Tips
If you are looking for tips on who's going to win there are a ton of pundits out there. They will all claim to have the low down on every match. The fact is it's almost impossible for somebody to predict even half the games played. The best tip when it comes to hockey betting is do your own research. Pick a league that is in your native language so you can read all of the reports on matches and preseason training. Sports betting is more than just luck. Information is key to working out who is on form. If you are a fan of prop betting you want to know which player is hitting the mark.
Or if a team likes to come from behind. Bear in mind your bookie will only offer odds on games they will safely understand. Most hockey betting is in the form of spread betting. Knowing a team will help you work out if a handicap is favourable to you. Bookies do make mistakes and it is up to the savvy punter to see them and make the most from their hockey bets. The goal markets are where the smart sports punters do there hockey betting. It's not the most exciting area of this crazy game but it is profitable because it is reasonably predictable if you do your research.
There are a ton of different bets you can make and bookies vary on what they offer. Total goals, total by team, total by player, total goals odd or even, total in period 1, 2 or 3. This is just the tip of a rather large iceberg. These hockey bets are easy to research stats are available for every major team. There may be a large number of goals scored in each game but you would be surprised at how consistent the averages are. Most bookies give even money or thereabouts on total goals bets. If you want the big odds you go for the correct score, this works best with mismatches in international games.
Usually the match winner and total goals don't offer big odds or particularly good value. More often than not though a whitewash would see better odds. Scores of 7-1, 6-1 or 5-1 might make 14/1 across the board. Which would mean a healthy profit even if you hedge bet all three.
A Quick Run Down On The Rules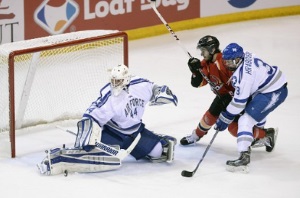 So you've watched a couple of games and are looking to make a few hockey bets but to be honest you don't understand the rules. Don't worry they are not as complicated and chaotic as they seem.
Aim
The rink
The ice is divided into three zones
Defending goal net is in the 'defending zone'
In the center of the ice is 'neutral zone' between two blue lines
Opposite end of the rink is the 'attacking zone' with the net of the opposing team
A red line marks the center of the rink
The Net and equipment
The goal cages one at each end measure 4 feet (1.22m) tall and six feet (1.85m) wide
The puck is rubber and its dimensions are 1 inch (25mm) thick and 3 inches (75mm) in diameter and weighs between 5.5 and 6 ounces (156 – 170 g)
The stick can be the size a player chooses
Pads and helmet and gloves depending on position
Teams
There are 6 players per team on the ice at any time. One goaltender and 5 'skaters'
Each skater has a position allotted to them consisting of 2 defenders and 3 forwards
All skaters can more freely about the rink despite allocated positions the goaltender is not allowed past the red center line.
Subs
At any time in the match substitutions can be made these are unlimited
Substitution doesn't need a stoppage in play nor an official's permission. A sub can join the game as long as the player departing is within 5 feet of the bench and is not involved with play.
The face off
The start/restart of the game is when the ref drops the puck between two opposing forwards
All other players during the faceoff must be on their defensive side of the puck
Painted on the ice are the nine faceoff points
Game clock
Three 20 minute periods of play in a professional game youth games are 12 or 15 minutes
Interval between periods are usually 17 minutes
All stoppages in play result in the clock stopping. Which why games go on for far longer than an hour.
Body checking
The shoulder, hip and torso can be used to hit or impede a player when in passion of the puck
Body checking the head is illegal
If a player is facing the boards a body check to the back is illegal
Minor penalties
Penalties are the area in every sport that gets everybody's blood flowing. In hockey the difference between a legal check and a penalty is up to the ref and is open to interpretation. Minor penalties are called for obstructing, dangerous use of the stick, and dangerous physical fouls. If a player is charged with a minor penalty they are sent to the 'sin bin' for 2 minutes no substitute player is allowed. The penalty time ends if a goal is scored by the opposing team.
Commonest are:
Tripping (stick or knee)
Holding (stick or knee)
Interference( checking or obstructing a player without the puck)
Slashing (stick)
Spearing (stick)
High-sticking (hitting face or head)
Cross-checking (hitting with shaft of stick)
Elbowing
Checking from behind
Kneeing
Roughing (open to refs decision usually shoving or wrestling match)
Major penalties
If a player is charged with a major foul they are sent to the 'sin bin' for 5 minutes.
Most commonly a major penalty is fighting. If both fighters get 5 minutes in the 'bin' subs can be made
All minor penalties can be upgraded to major if the player is seriously injured or a deliberate attempt to injure was made. This player is ejected from the game with no sub allowed.