Betting at European Betting Sites
.
£30 Welcome Bonus
Various offers
Good Customer Service
Claim Bonus!
In general, Europe is a leading in the online betting industry when it comes to innovation, regulation and legalisation. It is the biggest market in the world for revenue and thanks to its favourable gaming laws there is a lot of competition for the best betting sites in Europe.
Several countries within Europe were among the world's first to make online betting on sports legal, with the UK being one of the major players and home to some of the top names in online gambling. Most of the top bookies in Europe have their headquarters in the UK or began life there.
Currently, European betting sites are still undergoing a phase of growth and development and revenue figures are continuing to rise while punters can access ever-larger winnings.
Betting Laws Across Europe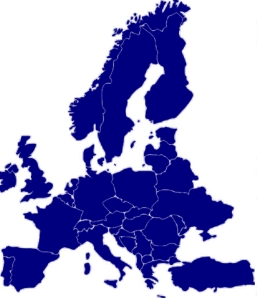 All European countries have their own approach to online betting, with many countries being pro-gambling. The European Union itself has no official take towards online betting except to permit free trade with equal competition across member states. This is a brief guide to some of the betting laws in various European countries
United Kingdom: The UK leads the way in online betting being one of the first European countries to make it a legal activity. Home to some of the best bookies in Europe, the UK allows players access to a wide range of operators' sites from both at home and abroad with no taxes to be paid on any winnings. The country's Gambling Commission regulates the industry to guarantee high standards of conduct are adhered to by all licensed bookmakers.
France: France fully liberated their online betting market in 2009, allowing foreign operators to apply for a license to offer their services to the French public. French betting regulations are tougher than those of the UK but there are still many licensed online operators in the country.
Ireland: Ireland's laws are very similar to those in the UK, allowing punters plenty of choice of online operators.
Germany: After a complex past involving outright bans on online gambling followed by intervention from the EU and government delays, punters can currently choose from several reputable online betting sites.
Spain: Spain legalised online gambling in 2008, with foreign operators being allowed to enter the market in 2011. As well as being able to access the world's most popular sites, Spanish citizens can also place wagers with a wealth of Spanish home-grown sites although winnings are subject to taxation.
Belgium: Belgian citizens are permitted to participate in online betting although the industry is tightly regulated. There are still many licensed operators entitled to operate within the Belgian market.
Austria: Austria allows access to all of the world's top betting sites as well as a government provided option.
Denmark: The Danish government has a free market approach to the management of online betting, with international operators able to apply for licensing. Most major online betting companies have a license to offer their services in Denmark.
Bulgaria: There are several safe betting sites which now hold licenses to operate within Bulgaria, although unlicensed sites are censored.
Hungary: Most major European betting sites now accept Hungarian citizens to place bets.
Czech Republic: The Czech government allows the majority of Europe's top online betting brands to accept players from the Czech Republic.
Croatia: Both local licensed operators and the best betting sites in Europe are permitted to operate in Croatia with no laws against playing online even on unlicensed sites.
Slovenia: At the present time, Slovenians are free to place wagers at any betting site they choose.
Lithuania: Lithuanians are free to bet online at any site of their choice.
Estonia: Estonia is an attractive market for betting operators as the country's sensible licensing process together with their decent tax rate has led some top sites setting up shop in the country.
Slovakia: Although there are no providers who are licensed by the government, there are no laws preventing citizens from placing a bet with any foreign operators who accept customers from Slovakia.
Luxembourg: Luxembourg has no laws against betting online, so at present the country has an untaxed industry which is dominated by top European betting sites.
Which are the Best Betting Sites in Europe to Play in Euros?
The majority of European top bettings sites have their headquarters in countries where the Euro is the form of currency. Although the UK does not have the Euro as their currency, they offer full Euro support in order to be accessible to the vast numbers of European players their major betting sites attract. As Europe is such a major betting market, it makes sense that all serious contenders in the betting market cater to customers who wish to place their wagers in Euros.
If you prefer to wager in Euros, this will be good news to you as you will be able to take your pick of the top names in the betting world. There are countless sites that you can choose from so your only task is to select the one that best suits your needs and requirements.
You will have no difficulty in finding and choosing a betting site that is reputable and reliable with a trustworthy reputation within the industry that can also process your deposits and payouts in the Euro currency. The best bookies in Europe fully support the Euro throughout the betting process, allowing punters to both deposit and wager in the currency without having to go through the complexity and expense of a currency exchange procedure. This eliminates the problem and hassle of swapping between currencies and also wipes out the fees which are associated with exchanging currencies. Being able to place bets using Euros is also extremely convenient as well as cost effective as there will be no need to try to calculate conversions in your head to try to ensure that you are placing the correct bet value or work out how much you are likely to receive in winnings when converted to your home currency.
As Europe as a whole has a very tightly regulated betting industry, you can also rest assured that when you choose to place wagers with one of the best betting sites in Europe you are also choosing a site that is subject to strict requirements for licensing. For example, in the UK, the Gambling Commission ensures that all of its licensed operators comply with stringent rules and regulations and so are trustworthy and reliable. This is very important when selecting a betting site as nobody wants to take unnecessary risks with either their money or their personal or financial data, therefore a European betting site is a sensible choice.
Playing With Trusted Names in Euros
Although the majority of sites which allow punters to place a wager in Euros are trustworthy and reliable, simple accepting Euros does not mean that a site is reputable. It is still important before placing a wager to check reviews of the betting site to ensure its reliability and to perform the standard checks on their licensing and regulation status. If you are in doubt, it makes sense to choose to registern with one of the best known European betting sites with a famous name and long history in the industry so that you can enjoy peace of mind as to your security and the safety of your finances.
Which Deposit Methods are Available at European Betting Sites?
Among all forms of currency, the Euro is the most widespread, being the accepted form of currency across a great many countries. This is one of the reasons why the best European betting sites allow a great range of deposit and withdrawal methods to customers who choose to place wagers using this currency choice.
Of course, as you might expect, all European betting sites offer the choice of the most traditional deposit methods like leading credit and debit cards including Visa and Mastercard, there are other options available on most of the top European names. Bank transfers or wires are popular and are offered by the majority of leading European betting sites and there are also plenty of e-Wallet methods which can be selected when placing a wager with the biggest and best names in the industry. PayPal is frequently accepted as are Neteller and Skrill, represented the top three e-Wallet methods available in Europe. All three of these can be used to deposit Euros into a betting account. Some online bookmakers also offer a range of specific options tailored to players in particular countries. One example is that players who come from the United Kingdom are able to use specific types of bank transfers as well as the Ukash method to make transactions secure and rapid. The variety of deposit and withdrawal options can depend on whereabouts in the world you are located and the site with which you choose to register, however as you might imagine, the greatest breadth of choice of payment methods will be offered by the biggest and best betting sites in Europe.