Is the Coral Mobile App a Good Choice?
Online sports betting has been popular for more than a decade however today, mobile betting is rapidly rising in popularity too. Increasing numbers of punters look forward to placing a wager from their mobile devices while on the move and therefore they are always on the lookout for a high quality mobile user experience from their chosen online bookmaker.
Coral is a well known name in the sportsbook market and, as you might expect from a leading company, they also offer a mobile app designed for bettors on the go. This article helps you to find out more about the Coral mobile app, its advantages and disadvantages and the variety of sports it offers so that you can make an informed choice when it comes to selecting the right mobile bookmaker for your needs.
.
£30 Welcome Bonus
Live Betting
Mobile Betting
Get Bonus!
What do I Need to Know About Coral Bookmakers?
Coral bookmakers started life in 1926 when the founder, Mr Joe Coral, borrowed enough money to start his first betting shop. His business expanded greatly during the 1960s once legislation had been passed to allow off-course betting shops to be operated and his first high street betting shop opened its doors in 1961. Today, there are almost 2000 Coral betting shops across the length and breadth of the UK as well as many more in Italy, although they trade under the name Eurobet. They also have a strong internet presence operating bingo, casino and online bookmaker websites.
As they are regulated by the Gambling Commission, users can be certain that they are choosing a reliable and reputable bookmaker and that their finances are in safe hands.
Which Types of Sports Are Offered by Coral Bookmakers Mobile App?
As one of the leading names in the sportsbook industry, the Coral mobile app gives users the opportunity to place wagers on a wide variety of sporting events. They offer a huge number of markets to serve the requirements of all kinds of bettors from the traditional to the more unusual. Punters can place a wager on such popular options as football, tennis and horseracing as well as less well known choices like bandy, darts, handball and futsal.
Coral mobile betting also offers the chance to place wagers on all the biggest and most popular sporting events such as Wimbledon and the Olympics. Within each category, there are also several subcategories. For example, within the football option it is possible to place wagers on different leagues around the world.
Is Coral Mobile Betting Compatible With All Devices?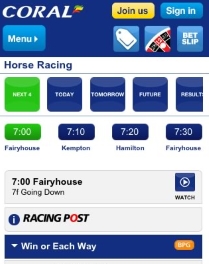 The Coral betting app is extremely easy to download and use and is compatible with all major mobile devices. Whether users have an Apple iOS, Android, BlackBerry or Windows device, there is a compatible Coral mobile app to suit. Both smartphones and tablets can be used with the Coral mobile platform.
The Coral betting app is logically designed making it simple for users to easily find the market that they wish to place a wager on. There is also a live section when allows users to access to events that are currently in play. Although the design is simple to navigate across all devices, the content on the iPhone app is not as user friendly as that for the iPad because of the smaller screen size. Placing a bet is quick and easy, either by using the pre-determined value buttons or by entering the wager of your choice.
What are the Benefits and Drawbacks of the Coral Mobile Platform?
One of the major benefits of the Coral mobile platform is that there is a huge selection of sports to select from, with there being plenty to suit the tastes of all kinds of bettors. The Coral betting app is functional and with its large icons, it is simple to navigate your way around the screen to find the appropriate market and choose the right wager. Horseracing fans are well provided for, with the option to watch live races from Ireland, the UK and Dubai from any device.
Although there are no specific promotions or bonuses on offer for mobile using customers, there is a handy My Promotions section of the app which allows access to all of the deals that can be accessed on the Coral website itself.
There are, however a number of downsides to Coral mobile betting. There are limited choices of deposit and withdrawal methods when using the app which is a drawback when compared to some of their competitors who offer a much wider variety including e-Wallet methods. Perhaps the biggest downside is the fact that Coral's live streaming options through their mobile site are still very limited. Only certain sports are available for streaming through the app – at the present time, just tennis and football which is considerably fewer options that those available through some other online bookmakers' apps.