Kylian Mbappe vs Erling Haaland – Player comparison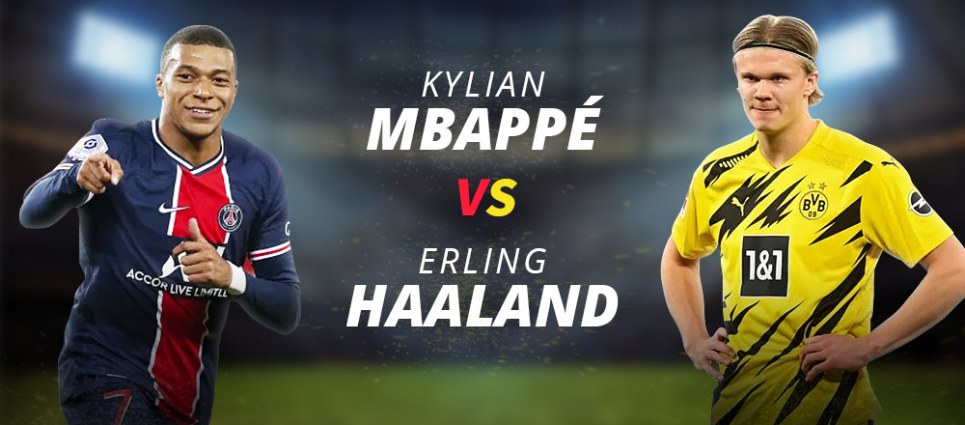 Kylian Mbappé and Erling Haaland are two of the most promising soccer players on the pitch today. Mbappe is a centre-forward well known for his outstanding pace and close ball control whilst Haaland is a striker known for his athleticism, precise off-the-ball movement and pace. They are considered two of the best football players in the world even though Mbappé is just 23 and Haaland 20 years of age. Here we look at how the two compare and who is the best player of all.
Early life
Kylian Mbappé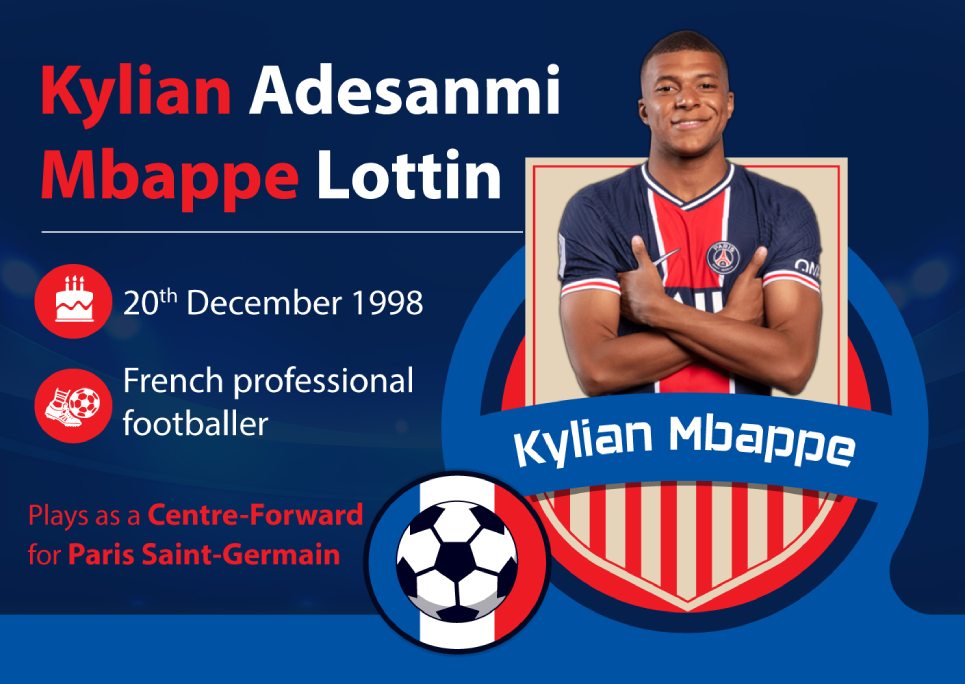 Kylian Adesanmi Mbappé Lottin (born 20 December 1998) is a French professional footballer who currently plays as a Centre-Forward for Paris Saint-Germain. Mbappe's father was a soccer coach by profession and his son learned much from him at home and at AS Bondy (2004-2013) where his father managed the club. He played at A.S Monaco (2013-2016) where his senior club career began, including playing for the France U17 team in 2014. He then joined Paris Saint-Germain (PSG), initially on loan. Mbappé's father continues working with him as his soccer agent.
Erling Braut Haaland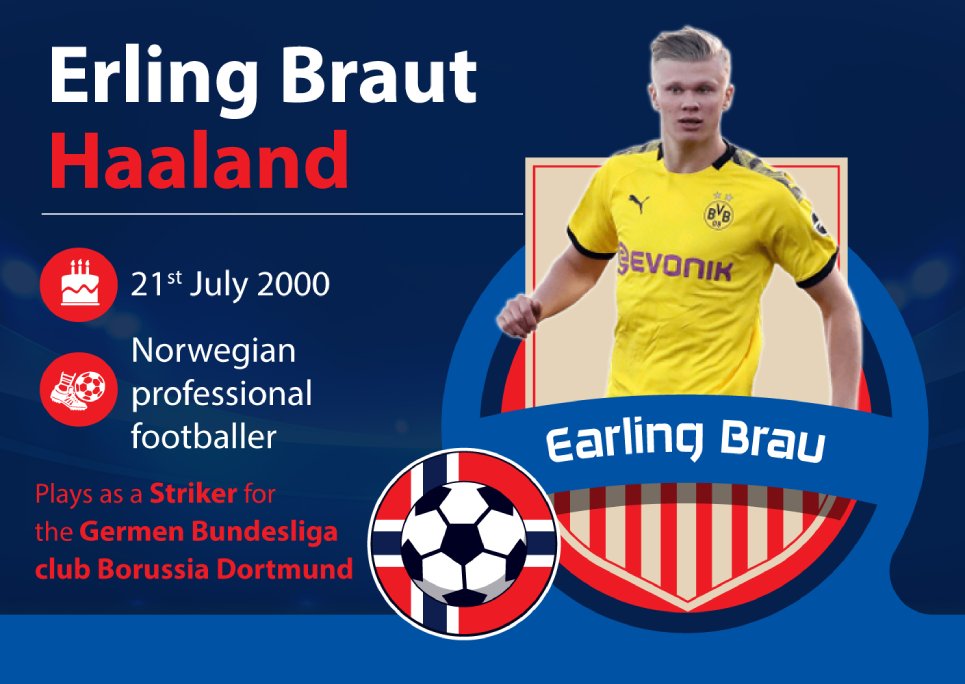 Erling Braut Haaland (born 21 July 2000) is a Norwegian professional footballer who currently plays as a striker for the Norway national football team and the German Bundesliga club Borussia Dortmund. The son of Alf-Inge Haaland, a professional footballer in Norway's national football team and at Manchester City at the time of his son's birth. Haaland has played for several professional football clubs including Bryne FK which he joined at 16 years of age, Molde FK, and Red Bull Salzburg. He debuted for the Norway national football team for the competitions of UEFA Euro 2020 qualifying matches against Malta in September 2019.
Comparison of players
A comparison of Mbappé and Haaland requires context, as each play different positions for clubs in different leagues. However, some of the numbers are awesome:
Goals scored
In their professional careers, the two men have beaten both Messi and Ronaldo in the club goals scored at the same age. At 17, Haaland scored 12 goals, Mbappé 7, Ronaldo 5 and Messi 1. Aged 20, the figures are Haaland 102, Mbappé 116, Ronaldo 36 and Messi 51. For a more rounded picture, Haaland has a higher rate of finishing xG (expected goals) than any other striker. Figures taken up to March 2021 show that Haaland scores a goal every 103m 21s, gives an assist every 421m 39s and participates in goal every 83m 00s. Mbappé scores a goal every 115m 08s, gives an assist every 205m 40s and participates in goal every 73m 49s.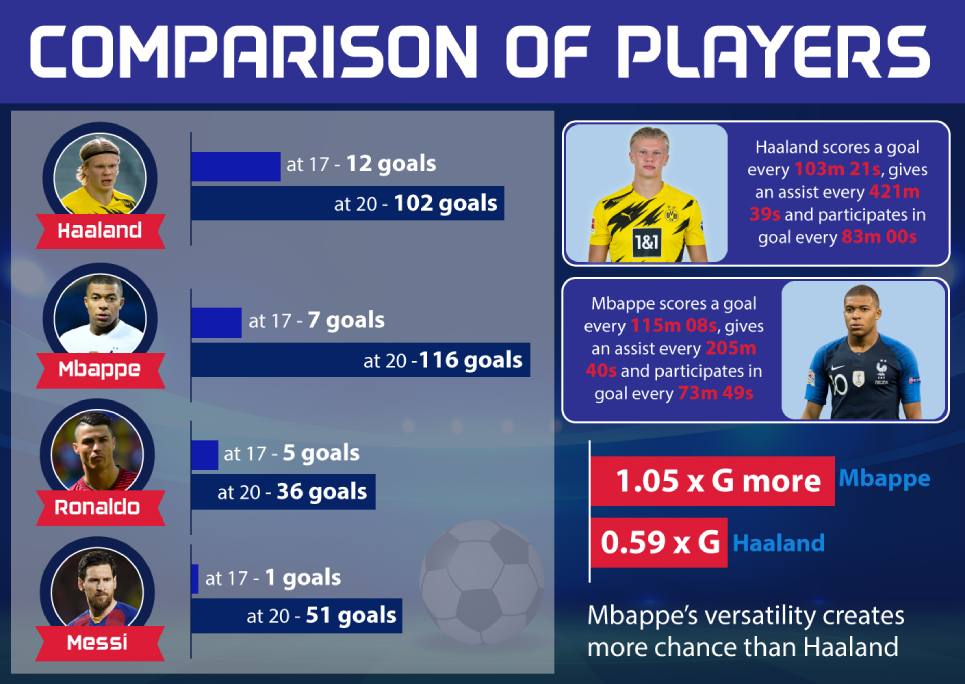 UEFA Champions League
Haaland scored 10 goals at the UEFA Champions League, despite missing two games in the group stage. He scored 20 goals in just 14 matches, faster than any other player.
In contrast, Mbappe is a centre-forward who produces goals but also creates many chances from anywhere on the field. Mbappé's versatility creates more chances (1.05 xG more) than Haaland (0.59 xG).
Net Worth, salary and endorsements
As of 2020, Mbappé's net worth is estimated at around USD110 million and the figure is expected to grow as his career continues. He has an endorsement and sponsorship deal with Nike which is worth up to EUR3 million. Mbappé girlfriend is reported to be Alicia Aylies, formerly Miss France 2017, though he keeps his personal life private. He lives in Monaco.
Haaland's salary is stated as EUR7 million per annum and his net worth is estimated at around USD5 million.
Summer 2021 transfer window
Mbappé's contact with PSG ends in June 2022, and while the club is keen to retain him with a new deal, he has been coy over his future plans. Offers are likely in the Summer 2021 transfer window with offers possible from Liverpool and Real Madrid, teams Mbappé has openly admired. Meanwhile, PSG is confident of a new deal.
In January 2020, Haaland chose to play at Borussia Dortmund rather than Manchester United. His buyout clause was GBP 18 million. His contract at Dortmund includes a clause of GBP 68 million, which becomes active in 2022. This clause is unlikely to stop either Manchester United, Manchester City, Liverpool or Real Madrid being interested in the player.
Final whistle
Whether you look at Mbappé and Haaland as the new Messi vs Ronaldo, it is almost impossible to choose between the two. Do you choose Haaland who scored nine goals in a single match or Mbappé, the youngest World Cup final scorer since Pele? If you want a final result, look to FIFA 20 which has Mbappé's overall rating as 89 with a potential of 95 and a 5-star skill moves rating versus Haaland's overall rating in FIFA 20 of 80 with a potential of 90, plus a 3-star skill moves rating.